Foundations and principles of the Canadian living donor paired exchange program
Canadian Journal of Kidney Health and Disease
2014
1:6
Received: 17 January 2014
Accepted: 8 April 2014
Published: 20 May 2014
Abstract
Purpose of review
Kidney paired donation (KPD) remains an important strategy to facilitate transplantation in patients who have a healthy and willing donor, but are unable to proceed with directed donation due to either ABO incompatibility or a positive cross-match against their intended donor.
Sources of information
Personal knowledge, The Canadian Blood Services Database for Living Donor Exchange, published reports and personal communications.
Findings
The national Living Donor Paired Exchange Programme (LDPE) in Canada was established in 2009. 235 transplants were completed of which 190 were registered recipients and 45 were from the deceased donor (DD) wait list. At 1 year, patient survival was 100%, graft survival 98%, with a biopsy proven acute rejection rate of 8%. The mean serum creatinine (Cr) at the end of one year was 109 mmol/l. Donor survival is 100%. Key to success are national standards for antibody testing and cross-matching, and for evaluating donors and recipients, as well infrastructure (software and personnel) to run the program. The structure of the Canadian program is compared with that of other programs in the United Kingdom, Australia, the Netherlands, and the United States.
Limitations
This review does not include information on travel distances and difficulties, or patient satisfaction.
Implications
National collaboration and acceptance of common standards is possible and leads to substantial benefits, especially for those patients who are hardest to match.
What was known before: Kidney paired donation is considered ethically acceptable. National and regional programs have been created in a number of countries.
What this paper adds: Key to the success of the Canadian national program are acceptance of standardized procedures and national and provincial support and oversight.
Keywords
Renal transplantationLiving donor exchange
Abrégé
But de l'article
Les programmes d'échanges (PE) permettent de réaliser des transplantations à donneur vivant chez des receveurs qui ont des donneurs sains et volontaires mais qui sont incompatibles avec leur receveur en raison d'une incompatibilité de groupes sanguins ou immunologique.
Sources d'informations
Connaissances personnelles, la base de données de la Société canadienne du sang pour les programmes par échanges de bénéficiaires, eécrits publiés et communications personnelles.
Résultats
Le Registre de donneurs vivants jumelés par échanges de bénéficiaires a été inauguré en 2009. Jusqu'à maintenant, 235 transplantations ont été réalisées. Parmi les receveurs, 190 receveurs étaient inscrits dans le regsitre et 45 étaient en attente pour un donneur décédé. À un an, la survie du patient est de 100% et celle du greffon de 98%. L'incidence des rejet aigus prouvés par biopsie réanle est de 8%. La valeur moyenne de la créatinine sérique à un an est de 109 μmol/L. La survie des donneurs est de 100%. Les procédures normalisées nationales pour la détection d'anticorps, les épreuves de compatibilité croisée, l'évaluation des donneurs et des receveurs ainsi que les infrastructures (informatiques et ressources humaines) sont des éléments clés expliquant le succès et le fonctionnement du programme. Dans cet article, nous comparerons la structure du programme canadien avec d'autres programmes d'échange au Royaume-Uni, en Australie, aux Pays-Bas et aux Etats-Unis.
Limites
Cet article de revue ne rapporte pas d'infomations sur les distances de voyagement, les difficultés ou la satisfaction des patients.
Implications
Le programme d'échange canadien démontre qu'il est possible de collaborer nationalement et d'avoir un consensus sur des normes. Ceci permet de faire bénéficier nos patients en attente de greffe, particulièrement les patients qui sont difficiles à jumeler.
Introduction
The results of renal transplantation have improved substantially. As well, various strategies have been employed to increase organ availability. Despite this, the number of patients on the waiting list continues to grow and demand for organs is ever increasing [1, 2]. The 2013 Canadian Organ Replacement (CORR) register estimated 40,385 people living with end stage renal disease (ESRD), 5,489 ESRD patients initiated renal replacement therapy (RRT) in 2011, whilst only 1,247 kidney transplants were performed during the same time period in Canada. At the end of 2011, there were 3,406 patients still waiting for a renal transplant, which is a 23% increase from 2005. As a result of this disparity, patients wait longer to receive a transplant while continuing on dialysis treatment and there is a mortality rate of 7.3 deaths per 100 patient-years on the waiting list [3].
Living donor transplants provide a mortality benefit over deceased donor transplantation [
1
]. However, in order to receive a living donor transplant a willing, medically acceptable, and compatible donor is required. It is estimated that one third of patients with a willing, medically acceptable donor are unable to receive a transplant because of ABO incompatibility or the presence of a donor specific antibody (DSA) [
2
]. Kidney paired donation (KPD) is a strategy which aims to increase the number of living donor transplants by matching incompatible pairs. KPD was first proposed in 1986 by Felix Rapaport [
4
], but it wasn't until 1997 that it was considered a valuable strategy to increase living donor transplants, when the ethics for such transplants were justified by LF Ross [
5
], and based on excellent results from living donor transplantation from unrelated donors (see Figure
1
).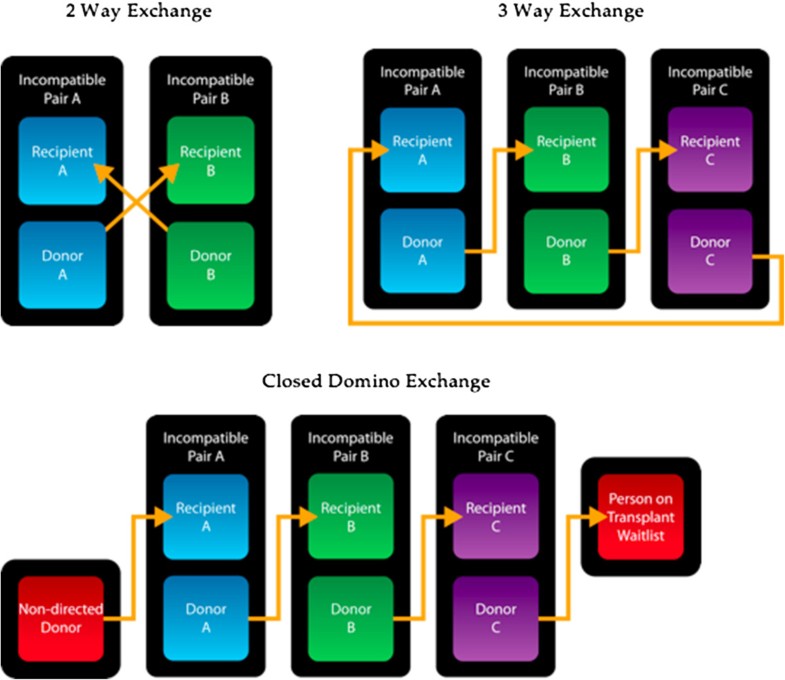 Segev et al have shown that the percentage of registry matches is higher if more pairs are entered [6]. As well, for difficult-to-match patients (those who are highly sensitized or blood group O recipients), participation in a larger program would increase their probability of finding a compatible donor because of larger donor pool size. These factors favour national registries over multiple independent registries, especially in countries with relatively small populations, like Canada.
Review
The national LDPE programme in Canada has been a rewarding success story. It is important to appreciate that the benefit of LDPE is not only that more patients get living donor transplants with the associated benefits, but also that all of those patients, who would previously have been on deceased donor lists, no longer are on them. This reduces waiting time for those without a living donor. The success of the programme is related to national collaboration, standardized antibody testing and standardization of both the workup and acceptance criteria for donors, centralized allocation software, operational oversight, dedicated central support staff, and government support of logistics for organization and travel.
The Canadian national LDPE program was established later than similar programs in the UK and Netherlands, but has seen good success in a relatively short span of time. As of November 2013, 235 transplants were completed which is higher than the reported transplants in other national programmes worldwide. The relatively small geographic area in the Netherlands enables them to do cross matches in a central laboratory. Other national programs are yet to standardize HLA laboratory techniques. The publicly funded healthcare system in Canada has obviated the argument of financial responsibility unlike in the US where there is ongoing debate on establishing a standard acquisition charge for KPD by private insurers [23]. A high number of proposed matches have been completed and the average time taken to complete a chain has also been low, for example in the Australian KPD programme, 12% of patients have had to wait in excess of four months to receive their transplant and 8% of proposed matches did not proceed due to a subsequent unexpected positive cross match within the same programme. In Canada, only 2 such unexpected positive cross matches have occurred in the last year. Chain collapse results in waste of resources and is disappointing to patients. Standardization of HLA laboratory practices and standardized acceptance criteria for donors has helped in minimizing chain collapses in our programme.
There are important considerations for the future. Candidates with cPRA > 97% have a lower transplant rate than other highly sensitized patients. Strategies to improve this, including the national registry for highly sensitized patients, are under active consideration. For instance, consideration of desensitization in association with LDPE is suggested by some early encouraging results of ABO and low level DSA desensitization from programs in Australia and the US [13, 14]. The future shipment of kidneys has the potential to reduce cost and simplify logistics. It is now known that living donor kidneys can withstand longer cold ischemia time with no deleterious effects on outcomes [24, 25]. It is clear from the available data that participation across Canada varies substantially by centre. We believe that LDPE is an important way of increasing access to transplantation and encourage all centers to consider it for every case with a medically suitable but incompatible donor.
Conclusion
The Canadian LDPE programme is an example of success achieved by national integration and collaboration. Hopefully, the success to date will emphasize the benefits of LDPE to both patients and centers, resulting in a further increase in pairs entered, matches and transplants.
Abbreviations
CBS:

Canadian blood services
CORR:

Canadian organ replacement register
cRF:

Calculated human leukocyte antigen antibody reaction frequency
DD:

Deceased donor
DSA:

Donor specific antibody
EBV:

Epstein–barr virus
ESRD:

End stage renal disease
HLA:

Human leukocyte antigen
KPD:

Kidney paired donation
LDPE:

Living donor exchange programme
MFI:

Mean fluorescence intensity
NDD:

Non-directed donor
OPTN:

Organ procurement and transplant network
PRA:

Plasma renin activity
RRT:

Renal replacement therapy
UNOS:

United network for organ sharing.
Declarations
Acknowledgements
The authors would like to acknowledge Canadian Blood Services for the management and services of the Canadian Transplant Registry. This service is made possible as a result of financial support to Canadian Blood Services from Federal Provincial Territorial Governments. The authors wish to acknowledge the contributions of the medical, surgical, nursing laboratory, and operating room staff in Canadian transplant centers who have contributed to the establishment of the National KPD Program, and the Kidney Foundation of Canada for supporting donor travel costs in the Program. The authors would like to thank CBS for providing Figure 2 for use in this article. The KPD Steering Committee Members include: Ian Alwayn - QEII Health Sciences Centre, Dalhousie University, Halifax. Patricia E Birk - Children's Hospital, Health Sciences Centre, Winnipeg. Brendan Barrett - Memorial University of Newfoundland, St. Johns. Patricia Campbell - University of Alberta, Edmonton. Edward Cole - University Health Network, Toronto (Chair). John Gill - University of British Columbia, Vancouver. Nessa Gogan - Horizon Health Network, Saint John, New Brunswick, Department of Medicine, Dalhousie University, Halifax and Memorial University, St. John's, Newfoundland. Martin E. Karpinski - University of Manitoba, Winnipeg. Rahul Mainra - Division of Nephrology, Saskatchewan Transplant Program, University of Saskatchewan. Mauricio Monroy - Cuadros, Division of Transplant Surgery, Foothills Medical Center, Calgary. Peter Nickerson - University of Manitoba, Winnipeg. Michel R. Pâquet - Centre Hospitalier Universitaire de Montréal, Montreal. Jeffery Zaltzman - St. Michaels Hospital, Toronto.
Authors' Affiliations
(1)
Clinical Fellow Renal Transplantation Programme, Toronto General Hospital, Toronto, Canada
(2)
University Health Network, University of Toronto, Toronto, Canada
Copyright
© Malik and Cole; licensee BioMed Central Ltd. 2014
This article is published under license to BioMed Central Ltd. This is an Open Access article distributed under the terms of the Creative Commons Attribution License (http://creativecommons.org/licenses/by/2.0), which permits unrestricted use, distribution, and reproduction in any medium, provided the original work is properly credited. The Creative Commons Public Domain Dedication waiver (http://creativecommons.org/publicdomain/zero/1.0/) applies to the data made available in this article, unless otherwise stated.