Translational research in kidney transplantation and the role of patient engagement
Canadian Journal of Kidney Health and Disease
2015
2:42
Received: 23 April 2015
Accepted: 2 September 2015
Published: 5 November 2015
Abstract
Background
Translational research is an evolving discipline that is intended to bridge the gaps between basic science research, clinical research, and implementation in clinical practice. It is a fluid, multidirectional process that requires strong interdisciplinary collaboration to produce research that is relevant to end-users.
Purpose of this review
This review summarizes current perspectives on translational research and outlines its relevance and importance to kidney transplantation research.
Sources of information
Sources of information used for this review include published reports, articles, and research funding websites.
Findings
Tissue typing is used as an in-depth example of how translational research has been applied in the field of kidney transplant medicine, and how it has resulted in successful implementation of diagnostic and management options for sensitized individuals undergoing kidney transplantation. The value of actively involving kidney transplant stakeholders (patients, caregivers, and clinicians) in setting research priorities and determining relevant outcomes for future investigation is also discussed.
Limitations
This is a narrative review of the literature which has been partly influenced by the perspectives and experiences of its authors.
Implications
Translational and patient-oriented research practices should be incorporated into future research endeavours in the field of kidney transplantation in order to create beneficial change in clinical practice and improve patient outcomes.
What was known before
Translational research which engages patients in the investigative process can enhance the likelihood that medical discoveries will have a meaningful impact at the bedside.
What this adds
This article applies current perspectives on translational research and patient engagement to the field of kidney transplantation, illustrating how these approaches have led to significant advancements in the field. It provides further justification for deliberate, targeted efforts to cross-collaborate and incorporate the patient voice into kidney transplant research.
Keywords
Human Leukocyte AntigenKidney TransplantationTranslational ResearchKidney Transplant RecipientNeutrophil Gelatinase Associate Lipocalin
Abrégé
Contexte
La recherche translationnelle est une discipline évolutive qui a pour but de faire le pont entre la recherche fondamentale, la recherche clinique et la mise en œuvre de pratiques cliniques dans le domaine des transplantations rénales. Il s'agit d'un processus multidirectionnel et fluide qui demande la collaboration étroite de toutes les disciplines impliquées afin que la recherche qui en résulte soit pertinente et touche directement les usagers.
Objectifs de la revue
Cette revue fait la synthèse des éléments actuels de la recherche translationnelle, et décrit sa pertinence et son importance dans le domaine de la recherche sur la transplantation rénale.
Sources
La réalisation de cette revue a été possible suite à la consultation de recueils et d'articles publiés ainsi que de sites web dédiés au financement de la recherche.
Constatations
L'étude de la compatibilité immunologique est utilisée à titre d'exemple pour démontrer en détail la façon dont la recherche translationnelle a été appliquée dans le domaine des greffes du rein jusqu'à maintenant, et comment elle a permis la mise en œuvre de solutions efficaces pour le diagnostic et l'organisation des soins aux patients subissant une greffe de rein. On a également discuté de l'importance d'impliquer toutes les parties prenantes d'une procédure de transplantation rénale, soit les patients eux-mêmes et le personnel soignant et le personnel clinique, afin d'établir les priorités de recherche et de définir les résultats pertinents en vue d'études ultérieures.
Limites de l'étude
Il s'agit d'une revue non systématique de la littérature influencée en partie par la perspective et les connaissances des auteurs sur le sujet.
Conséquences
Il apparait important d'intégrer les pratiques courantes en recherche translationnelle de même qu'en recherche axée sur le patient lors de futures études sur les greffes de reins. Ceci afin d'instaurer un changement bénéfique dans la pratique clinique et par conséquent, d'améliorer les résultats chez les patients.
Données connues
Une approche de recherche translationnelle favorisant l'implication des patients dans le processus d'analyse peut augmenter les chances de voir les découvertes médicales avoir des répercussions directes et plus significatives pour le patient.
Ce que cette étude ajoute
Cette revue expose les différents points de vue sur la recherche translationnelle et la collaboration des patients au processus, dans le domaine de la transplantation rénale. Elle illustre également la façon dont ces approches ont mené à des progrès marqués dans le domaine et plaide pour une collaboration volontaire et ciblée entre les différents intervenants ainsi que pour une plus grande implication des patients dans la recherche.
Why is this review important?
A kidney transplant is the best treatment for patients with end-stage renal disease. This review highlights the importance of translational research in bridging the gaps between basic and clinical research and promoting evidence implementation in the field of kidney transplantation. It also reviews the key role of patient engagement in the research process.
What are the key messages?
The example of tissue typing is provided to illustrate the application of translational research in kidney transplantation. Patient-oriented research, including the involvement of kidney transplant stakeholders in determining research priorities and outcomes, may enhance the relevance and implementation of research findings into practice.
Implications for future research/policy
Translational research fosters multidisciplinary and multi-stakeholder collaboration and can improve translation of findings into practice. This strategy lends itself to many opportunities to enhance patient care and quality of life post-kidney transplant.
Introduction
A Medline search exploring the term "translational research" reveals titles published as early as the 1990s [1]. The discipline of translational research, however, has come into existence more recently [2]. The concept of translational research may have different meanings, depending on the field [3]. For researchers, it might imply testing an idea in a laboratory with the hopes of bringing the finding into a clinical setting [4], whereas for clinicians, it may imply seeing the benefits of laboratory discoveries at the bedside and changing practice guidelines [3, 5, 6].
The National Institutes of Health initially defined translational research as two separate areas of research: the first involving the application of discoveries from the laboratory or "bench" to the clinical setting, and the second aimed at adapting "best practices" in the community. It was thought to exist along a unidirectional continuum [7]. Over the years this definition has evolved to become bi-directional and to include more phases [1]. Waldman et al. describe a newer model which now reflects a more diverse spectrum of knowledge [8]. T1 phase translates basic laboratory research to human application [9]. T2 phase promotes the movement of research discoveries through clinical development in order to gather enough evidence to develop practice guidelines [10]. During the T3 phase, the findings made in T1 and T2 are brought to community practice [11]. This phase was included so that all patients could benefit from the discoveries made in the first two phases. The T4 phase aims to incorporate a public health model, with the goal being to educate the community to make healthier choices in order to prevent disease [9]. Waldman et al. also propose including a T0 and T5 phase. T0 recognizes the work of laboratory investigators as being the start of the continuum, whereas T5, at the other end of the translational research spectrum, allows for a more "global" approach by extending research to a societal model [12].
Some of the benefits of translational research include an increased number of individuals participating in research and a more patient-centered approach [
2
]. Obstacles include the high cost of the desired projects, a lack of funding, and slow turnover of results [
3
,
13
]. The Canadian Institutes of Health Research (CIHR) refers to the challenges Canada faces in promoting translational research as "death valleys" [
14
,
15
] (Fig.
1
). Valley 1 refers to "
the decreased capacity to translate the results of discoveries generated by basic biomedical research in the laboratory to the bedside or careside …
", and Valley 2 refers to the "
limited capacity to synthesize, disseminate and integrate research results more broadly into health care decision-making and clinical practice
" [
14
]. In this narrative review, we will highlight examples of translational research and the death valleys within the field of kidney transplantation, and review tissue typing as an in-depth example of bench-to-bedside research. We will also discuss the role of patient-oriented research in translational research, and its use and applicability to the field of kidney transplantation.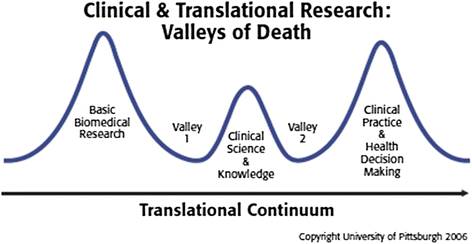 Conclusions
This review has provided an overview of translational research and highlighted examples of translational research in the field of kidney transplantation. Translational research is an evolving discipline that emphasizes fluidity between the different phases of research and requires strong interdisciplinary collaboration among researchers and clinicians.
The example of histocompatibility testing, and how translational research has played a role in improving management options for sensitized individuals, demonstrates how focused efforts to bridge gaps between basic science research, clinical research, and implementation in clinical practice can lead to improved patient outcomes. Further, involving patients and stakeholders in establishing and monitoring research agendas increases the likelihood that research will be produced that is meaningful and relevant to patients and those who care for them. Potential rich areas for translational research efforts include non-invasive diagnostic test development for acute rejection, novel immunosuppression strategies, and improving medication adherence. Future use of established, transparent research prioritization initiatives involving key Canadian kidney transplantation stakeholders and evaluation of these processes will be not only important but also necessary to ensure that the concerns of research end-users are being addressed and that research findings are being implemented in practice. The future of translational research in kidney transplantation and beyond will require the deliberate fostering of partnerships to ensure that scientists, clinicians, and patients are working towards common goals.
Abbreviations
CIHR:

Canadian institutes of health research
ESRD:

End-stage renal disease
mRNA:

messenger RNA
NGAL:

Neutrophil gelatinase associated lipocalin
ABMR:

Antibody-mediated rejection
KDIGO:

Kidney disease improving global outcomes
HLA:

Human leukocyte antigen
MHC:

Major histocompatibility complex
CDC:

Complement-dependent cytotoxicity
PRA:

Panel reactive antibody
PRO:

Patient-reported outcomes
HRQoL:

Health-related quality of life
Declarations
Acknowledgements
All authors are supported by the Kidney Research Scientist Core Education and National Training Program (co-funded by the Kidney Foundation of Canada, Canadian Society of Nephrology, and Canadian Institutes of Health Research). JFF is supported by a Kidney Foundation of Canada Allied Health Doctoral Fellowship. MJE is supported by an Alberta Innovates-Health Solutions Clinician Fellowship.
Open AccessThis article is distributed under the terms of the Creative Commons Attribution 4.0 International License (http://creativecommons.org/licenses/by/4.0/), which permits unrestricted use, distribution, and reproduction in any medium, provided you give appropriate credit to the original author(s) and the source, provide a link to the Creative Commons license, and indicate if changes were made. The Creative Commons Public Domain Dedication waiver (http://creativecommons.org/publicdomain/zero/1.0/) applies to the data made available in this article, unless otherwise stated.
Authors' Affiliations
(1)
Division of Nephrology, University Health Network, Toronto ON, Canada and the Rehabilitation Sciences Institute, University of Toronto, Toronto, Canada
(2)
Li Ka Shing Knowledge Institute, St. Michael's Hospital, Toronto, Canada
(3)
Division of Nephrology, St. Michael's Hospital, University of Toronto, Toronto, Canada
(4)
Department of Laboratory Medicine and the Keenan Research Centre for Biomedical Science at the Li Ka Shing Knowledge Institute, Toronto, Canada
(5)
Division of Nephrology, Children's Hospital of Eastern Ontario, Clinical Epidemiology Program and the University of Ottawa, Ottawa, Canada